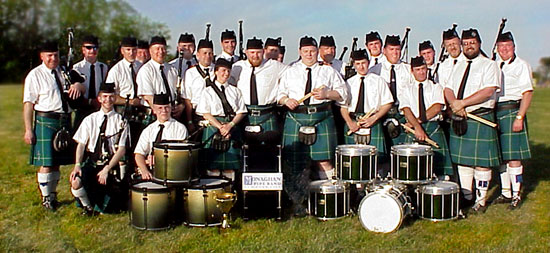 Chartered by the Monaghan Men's Club in 1929, the Monaghan Pipe Band is one of the oldest pipe bands in the United States.



The band continues to thrive as it competes in grade three, one of the highest grades offered in the Eastern United States Pipe Band Association, where it has ranked among the top three bands in each of the last two seasons.

A regular, since its inception, in New York City's St. Patrick's Day Parade, Monaghan performs at numerous functions in the New York City metropolitan area year round. The band has performed at Radio City Music Hall on the opening night of Riverdance, and as the musical guests on CBS' This Morning.

While named after a county in the Republic of Ireland, where many of its original members hail from, membership in the band is open to people of any ethnicity and religion. Members typically hail from the tri-state area of New York, New Jersey and Connecticut.

The musical leadership of the band has recently been assumed by Pipe Major John J. Wassman and Lead Drummer Gordon Bell, two of the nation's finest Celtic musicians. The band has a significant amount of young talent, as well as a number of established veteran players, all of which is guided by grade one leadership - the key to its current success, and the door to an even greater future.





For booking information, or for information on how to join the band, call band manager Dan Hamilton on the Monaghan Hotline at (516) 457-9797 or e-mail Dan at MonaghanPB@yahoo.com.
If you would like to be notified when this web site is updated, please click here.
View Monaghan's Guestbook
Sign Monaghan's Guestbook
Number of page visits since November 27th, 2000

Web Site of the Week - January 5, 2001